THE DUNEDIN BETTANYS OFFICIAL WEB SITE
JULY'S PHOTO'S
For those who look forward to pictures of Alex we have the latest ones up.
Alex really enjoys his play times. He smiles and laughs alot.
He is teething at the moment (all the signs are there) and we have trialed him on solids. (MMMM isn't Farex yum -Not) He prefers fruit!
This is still in its early stages of development and at the moment is a part of this site.
If you want to check it out you can click here
or type in the URL
https://bettany0.tripod.com/Heather/heather.htm
VISIT TO THE BIG WET
We are planing to be up in Auckland in the last week of August.
(Thus 22 - Mon 2 Sept)

Of course we will try to see as many people as we are able to, so if you would like to catch up with us let us know by e-mail so we can take this into account in making our plans.

Also if anyone has a spare car we could borrow for part or all of this time we would be very greatful. (our accomodation is already arranged)

Needless to say we look forward to some time back home with family and friends as well as a bit of a holiday.
MENU
Home
Google
Photos
Newsletters
Links Page
ABOUT OUR SITE
Issue: August 1
Year: 2002
Editor: Phil Bettany
© 2002 P. Bettany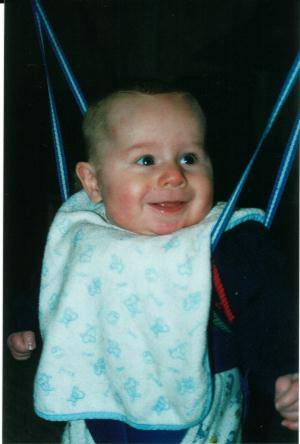 Hi all, this is Alex here. If you want to see more of me, go to the photos page and follow the links.

Prayers
Phil's Mum is now in West OZ after spending some time traveling through the other states of OZ.

Pray for safety, that she avoids any bugs as she travels, and that her finances hold out until she reaches the UK and can earn again.

---

Semester two at SOM
Pray that Phil will be on top of things and able to complete all the remaining requrements for his licensing when he finishes.

---
Thanks to all who pray and support us
---